Proposed Changes to Current Corporate Legislation
These proposed changes will affect the middle class far more than the top 1%. And that loss of income in the middle class will roll down to clients and those wanting to join the middle class.
Plumbers. Farmers. Electricians. Network marketers. Doctors. Accountants. Mechanics. Marketers. Carpenters. Gas station owners. Massage therapists. Chiropractors. Pharmacists. It's small business owners that will see tax rates jump to 71% in some cases.
Small business owners are people that have no paid sick days. No paid vacation. No health benefits. No pension plans.
When you attack small businesses and entrepreneurs, you are crippling the very backbone of the entire economy.
Glad that many of the liberal MPs are standing up against the foolishness or their own party's proposed changes.
Send Bill Morneau (finance minister) a quick email. Send Justin Trudeau a note. Contact your MP and let him/her know that you do not want to see the economy sabotaged from the top. See contact information below.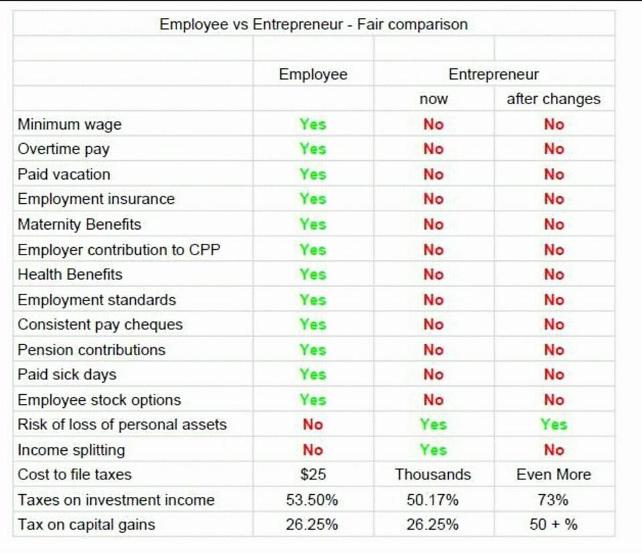 Image courtesy of: Jas Saini
Please download the template below, adapt it to your needs and send it to Justin Trudeau, Bill Morneau and your MP!
Send a letter or email to your MP EVERYDAY. AND AN EMAIL TO BILL MOREAU EVERYDAY. AND TO THE PM EVERYDAY.
** Bill Morneau: fin.consultation.fin@canada.ca
** Justin Trudeau: pm@pm.gc.ca
** Find your local MP here with your postal code:
https://lop.parl.ca/.../HouseO.../MemberByPostalCode.aspx...